The CMS home page
This article introduces you to the basic structure of the CMS start page of MATE. The CMS start page is the overview page/start page of your account, which displays all your events created in MATE.  
Structure of the CMS Start Page
On the CMS start page of MATE you will see all your events already created in MATE. Usually, the following elements are displayed for the individual business events:
Name of the event
Event date (start and end)
Status of the event (if it is a completed or future event)
Event type (what license was used to create this business event)
Unlabeled field with various action options

Under the last, unlabeled tab, events can be duplicated, edited or deleted.
Optionally, you can also display the external ID, the creation date and the last change of each event in the overview.
The column selection
The gear wheel (on the right side of the screen) opens a quick menu that allows you to make settings to show or hide information. In other words, you can determine which information about events (for example, event status or type) is displayed on the CMS start page. (The visibility group feature is not included in every package)

The search bar
With the search bar you can search for terms or keywords quickly and specifically within your overview page. You can also use it to quickly search for a specific event. 

You can find detailed information on the search function, both on your CMS homepage and within an event, here.
The field of action
Select one or more events by placing a checkmark in front of the event name to be able to edit them simultaneously by using the "Select Action" field.

Detailed information about the action field can be found here. 
Create an event
Use the button 'Create event' to create a new event. After successfully creating a new event, it will also appear on your CMS start page. Further information can be found here.
The filter display
At the bottom of your CMS start page you can see if and which filters you have currently set and how many entries were found using these filters.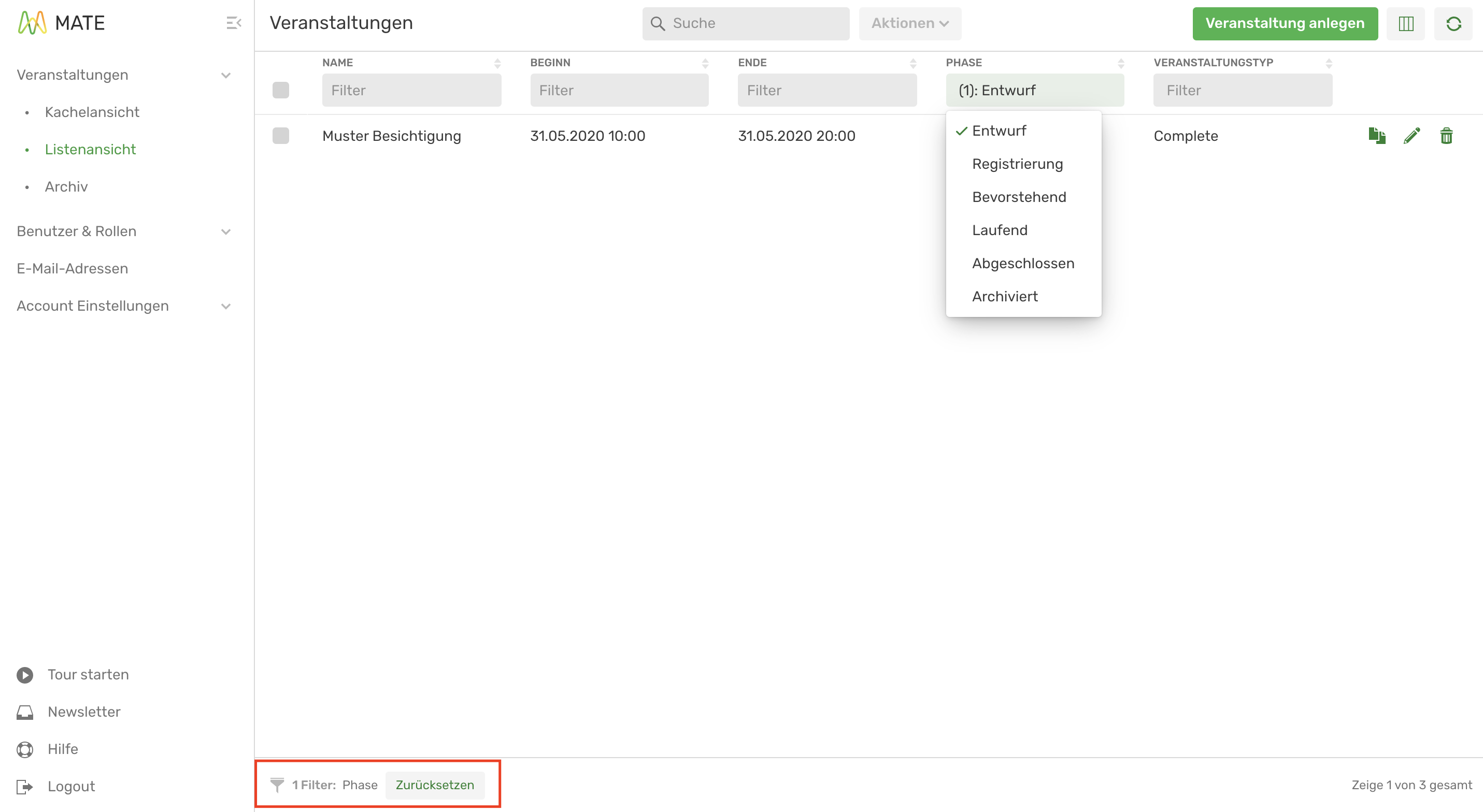 You can read more explanations about the possibilities of the filter here.
Please note that each individual overview page of an individual event has the same basic structure as your CMS start page.
---
---